July Monthly Real Estate Activity for San Diego County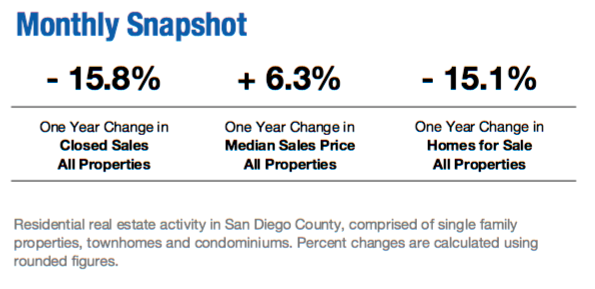 July 2016
Monthly Snapshot
Even as prices rise in many San Diego communities, homes are selling faster now thanthey have in the past several years. This creates a situation where buyersneed to move fast in order to secure homes, and they may have to pay morefor them. While increasing prices generally coax more selling activity, therehas been some hesitancy among potential sellers who worry that they will notbe able to buy a desirable and reasonably priced home once they sell.
Closed Sales decreased 15.8 percent for Detached homes and 15.9 percentfor Attached homes. Pending Sales increased 5.1 percent for Detachedhomes and 4.9 percent for Attached homes. Inventory decreased 11.9percent for Detached homes and 23.3 percent for Attached homes.
The Median Sales Price was up 2.9 percent to $565,000 for Detached homesand 12.2 percent to $381,000 for Attached homes. Days on Market decreased11.4 percent for Detached homes and 32.4 percent for Attached homes.Supply decreased 12.9 percent for Detached homes and 28.0 percent forAttached homes.
Low housing supply has already prevented an outright national boon in salesactivity, despite a continuation of near record-low mortgage rates and anunemployment rate under 5.0 percent deep into 2016. The issue is notpurchasing power. Many areas are falling behind last year's closed salestotals simply because of lack of available inventory. As this continues, higherprices may put a deeper squeeze on the current buyer pool.